"We want to implement Odoo. What will that cost us?"

"An implementation partner provided us with a new system some time ago. But it doesn't really fit our processes and is therefore not accepted by the staff at all."

"But this is standard functionality that every system covers. Why is our requirement causing additional costs?"

"Our system is fully tailored to our needs, we insisted on this when we implemented it. In the meantime, however, it is outdated and so rigid that modernisation is not (easily) possible." 


These are just a few examples of statements that we regularly hear from prospective customers in practice or questions that we are asked. And of course it is our goal to prevent dissatisfaction with the system solution and to give valid answers to all these questions. 
But it is clear that we can only do this if we know the framework conditions. And that is why we at SUPPLiot rely on a GAP analysis before the project begins. 
The GAP analysis as a tool 
The implementation of a (new) ERP system is a big and important step towards digitalisation and process optimisation. Especially because of its strategic importance, the implementation of such a project must be carefully planned.
The GAP analysis is a tool with which the gap between the current actual state and the desired target state is uncovered, in order to finally be closed by the appropriate solution.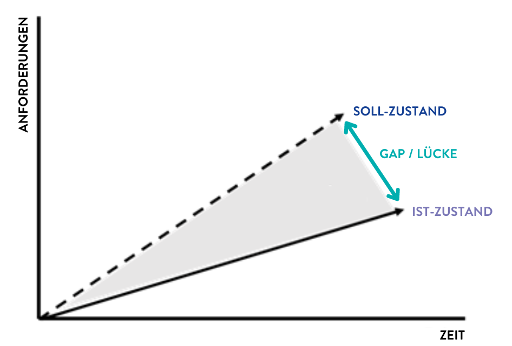 Example: In the course of the GAP analysis, the customer reports how the current accounting process is handled step by step. Detailed questions about process steps are asked directly, special features are questioned and, if necessary, documented as a requirement. Subsequently, the Odoo standard way is demonstrated as best practice and finally the target state is discussed. Any gaps between the actual and target state are closed by process adaptation or system configuration (only in emergencies by custom development). 
With this kind of in-depth discussion within the scope of the analysis, we ensure that your project is implemented within the defined time/cost frame while minimising the associated risks.
In addition, the GAP analysis represents a kind of "safety gate" for both project client and contractor. Instead of both sides committing to an overall project in a kind of black box from the beginning, the analysis phase can be followed by a reassessment and a decision on project implementation.
That alone does not convince you? Then read on to find out more about our motives. 
Five good reasons for a GAP analysis
At the beginning of a project, the investment in a GAP analysis may seem relatively high. However, we know from experience that every minute invested at the beginning saves even more time (and one thing is certain: time is money) and nerves in the further course of the project.  
Below you will find five good reasons why we rely on the GAP analysis before the start of the project and why we would not want to do without it: 
Creating a common understanding  
At the beginning there are always a lot of requirements that need to be understood, discussed, prioritised and brought to a solution. Only when the question 'Have we understood this correctly?' can be answered unreservedly with 'Yes!' by everyone involved, have we reached our goal. Then we can find suitable solutions to the requirements: As close to the Odoo standard as possible, as individual as necessary. 
"Only Teamwork makes the Dream work" 
This intensive first analysis phase gives a foretaste of a joint project and cooperation. Our customers get an impression of how we work and whether it is a "good fit". Let's face it, an ERP implementation project brings challenges with ups and downs - all the more important is a level of trust in partnership on both sides.  
Change management and process optimisation
The introduction of a new ERP system represents a significant change that must be managed from the very beginning. In the course of the GAP analysis, company processes are challenged in a timely and conscientious manner and, if necessary, optimised by adapting them to the Odoo standard.
Risk management
Every project involves certain risks, but of course also opportunities. The analysis phase at the beginning of every major project reveals expectable and less expectable risks, which helps to minimise the risks and set up a realistic project plan. Project opportunities can also be recognised in time and used in the best possible way.
Assessment of project/cost framework
We are aware that the effort and costs associated with an implementation project represent a not inconsiderable investment for companies. We therefore understand the desire for an investment framework, but can only serve this if both sides are aware of the necessary framework conditions as a result of the GAP analysis. 
We hope that we have already convinced you of the importance of the analysis phase. But now you are surely asking yourself what that means exactly and what is in store for you. Or? 
The tried and tested procedure
Based on our practical experience, we carry out the GAP analysis in several steps. This is how a GAP analysis with the SUPPLiot team works:
Pre-analysis
We start by analysing the documents and information provided by you during the initial meeting, submit a questionnaire in advance and develop initial ideas for the implementation of previously known requirements. Furthermore, a demo database is set up in which the first processes are mapped on a trial basis. It has also proved advantageous to appoint a person responsible for the project on the customer side at this early stage or to define key contact persons who will subsequently be decisive for the implementation of the system.
Analysis phase I
We visit you and get to know your company and its processes. There are some requirements that we can easily address sitting at a meeting table. For others, we prefer real-life conditions and stand with our customers, for example, in their cold stores, visit the warehouse, observe an incoming goods department or accompany a production process on the assembly line. All requirements for the different processes are carefully documented, as is the current system architecture. 
Preparation
Already after the first appointment we start to sharpen the prototype with our findings and work out first approaches to solutions for more specific challenges. If it is possible with the available information, we also provide an initial cost-benefit assessment (ROI). This preparation enables us to ask even more targeted questions in the next analysis phase.  
Analysis phase II

Together with you, we work out the ideal processes for your company. We try to map each requirement satisfactorily in the Odoo standard process before looking for an alternative solution. In this appointment we can already clearly condense the process mapping in Odoo
Follow-up
In most cases, this phase is quite time-consuming for us. We document your business processes before we enrich your requirements in order to finally divide them into work packages and implementation phases. We then create an implementation concept according to phases, which would form the basis for a possible project plan. 
Review
Since the results are usually quite extensive and sometimes require explanation, we are happy to present them in a joint meeting. Thereby we use the opportunity to address your questions and customisation requests.
Result with added value 
The result of the GAP analysis is a central basis for decision-making and a necessary starting point for a possible implementation project. 
Specifically, you will receive the following results from the GAP analysis: 
a comprehensive list of your requirements for an ERP system incl. description, challenges, prioritisation if necessary as well as a possible breakdown into task packages (note: this list also has added value for you should you decide against an implementation of Odoo and in favour of another system).

a concept document outlining the implementation and system architecture for implementing Odoo in your company

an effort estimate based on assumptions for the implementation as well as a time schedule for an implementation

an overview of the "gaps" between the Odoo standard and your individual business requirements.
Concept document, gaps and effort estimation finally form the basis for your strategic decision for or against a project and the implementation of Odoo as ERP system in your company. 
 GAP ANALYSIS

That sounds interesting to you?
We're glad to hear it! 😊 Contact us for a no-obligation initial consultation and let us tackle your project together. 
Do you still have some unanswered questions? Perhaps you will find what you are looking for in our FAQ.